The Newly-Appointed Police Commissioner of New Taipei City----Adopts Community Policing to Maintain Public Order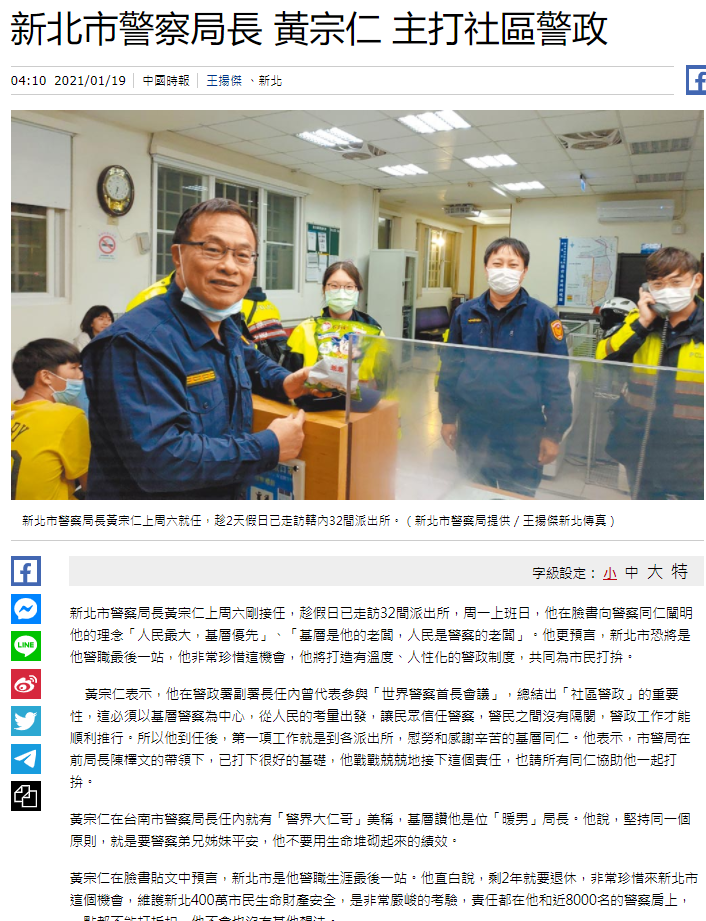 Date:

2021-01-27

Department:

New Taipei City Police Department

The newly-appointed Commissioner of New Taipei City Police Department (NTPD), Mr. Tsung-Jen Huang, had visited 32 police stations over the past weekend shortly after he assumed office on Saturday, January 16. After the visitation, Commissioner Huang posted on his official Facebook page to elaborate on his policing idea that the police should serve the public and therefore the opinions from patrol officers should be highly valued. Due to the fact that he may retire within years, Commissioner Huang pledged to establish a warm and humanized police system and to enhance the well-being of the citizens.

Having participated in the Annual Conference of International Association of Chiefs of Police (IACP) on behalf of the National Police Agency a few years ago, Commissioner Huang emphasized the essence of community policing that the police need to build relationships and trusts with the community in order to improve police work, and that's why he takes visiting police stations as top priority. Even though the police work had been well-enhanced while the former Commissioner Che-Wen Chen was in office, Commissioner Huang still made a commitment to strive for better police work with the supports of all officers.

Commissioner Huang had also been called "Brother Jen" (meaning he will always be with all officers) by the local police officers when he was the Police Commissioner of Tainan City. He said that safety of all officers is the greatest asset and therefore officers should not be asked to risk their lives to search for police performance objectives.

Having considering that the Commissioner of NTPD is the last appointment as governmental official, Commissioner Huang promised that he will hold nothing back to take on the responsibility to protect the safety and well-being of all 4 million citizens even though it is quite challenging.
新北市警察局長黃宗仁 主打社區警政
新北市警察局長黃宗仁上周六剛接任,趁假日已走訪32間派出所,周一上班日,他在臉書向警察同仁闡明他的理念「人民最大,基層優先」、「基層是他的老闆,人民是警察的老闆」。他更預言,新北市恐將是他警職最後一站,他非常珍惜這機會,他將打造有溫度、人性化的警政制度,共同為市民打拚。
黃宗仁表示,他在警政署副署長任內曾代表參與「世界警察首長會議」,總結出「社區警政」的重要性,這必須以基層警察為中心,從人民的考量出發,讓民眾信任警察,警民之間沒有隔閡,警政工作才能順利推行。所以他到任後,第一項工作就是到各派出所,慰勞和感謝辛苦的基層同仁。他表示,市警局在前局長陳檡文的帶領下,已打下很好的基礎,他戰戰兢兢地接下這個責任,也請所有同仁協助他一起打拚。
黃宗仁在台南市警察局長任內就有「警界大仁哥」美稱,基層讚他是位「暖男」局長。他說,堅持同一個原則,就是要警察弟兄姊妹平安,他不要用生命堆砌起來的績效。
黃宗仁在臉書貼文中預言,新北市是他警職生涯最後一站。他直白說,剩2年就要退休,非常珍惜來新北市這個機會,維護新北400萬市民生命財產安全,是非常嚴峻的考驗,責任都在他和近8000名的警察肩上,一點都不能打折扣,他不會也沒有其他想法。

本文轉譯自中時新聞網:
王揚傑(民國110年1月19日)。新北市警察局長黃宗仁 主打社區警政。
中時新聞網。民國110年1月20日,取自: https://www.chinatimes.com/newspapers/20210119001143-260107?chdtv